Did you know that we can predict the future?  Just Kidding!
That been said, 2023 is the eighth year in a row we've written a predictions post like this, that peers into the future. We love doing it, and the data suggests you like reading it so as long as that's the case, we'll be back every year!
First things first.
Thankfully I think we can say that we are viewing the Covid-19 pandemic in the rear view mirror.
One thing that's for sure though is that there are always fresh challenges that can impact our lives and businesses.  2022 was no exception and it brought new geopolitical and economic hardships that are being felt worldwide.
On the off chance you're a first-time reader of our blog, we publish digital marketing predictions for the year ahead.
As mentioned, we've been doing this since 2014 (check out some of our posts from 2017, 2018, 2019, 2020, 2021, and 2022).
Here's the grading legend we created for the original post way back in 2014:
Oracle (+2) – when we're so right, it's like we channeled that nice lady from The Matrix
Oracle In-Training (+1) – we didn't quite see the whole picture, but hey, we still saw the future
Clear As Mud (0) – we weren't right, but we weren't wrong, either
Just A Bit Outside (-1) – To use a football analogy, we took a shot at goal but it hit the crossbar.
Swing And A Miss (-2) – Switching to a baseball analogy, like a batter who expects a fastball and gets a curve, we weren't close
As tradition dictates, we grade last year's prognostications before we allow ourselves to make a new set of predictions. Here's what we thought might happen in 2022:
#1: The Popularity of Short Video Content Will Grow
Grade: +2
More than a few stats in this post indicate we were right on the mark about short-form video content continuing to grow in 2022, so we're going to take the full two points.
But the only one you really need to look at is this one, which shows interest in TikTok ads (read: ads on a short-form video platform) have increased 99x+ over the last five years, with no signs of slowing down as we move into 2023.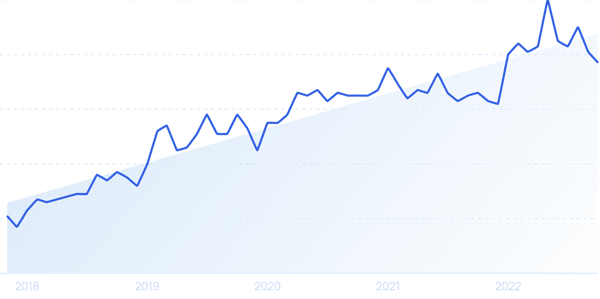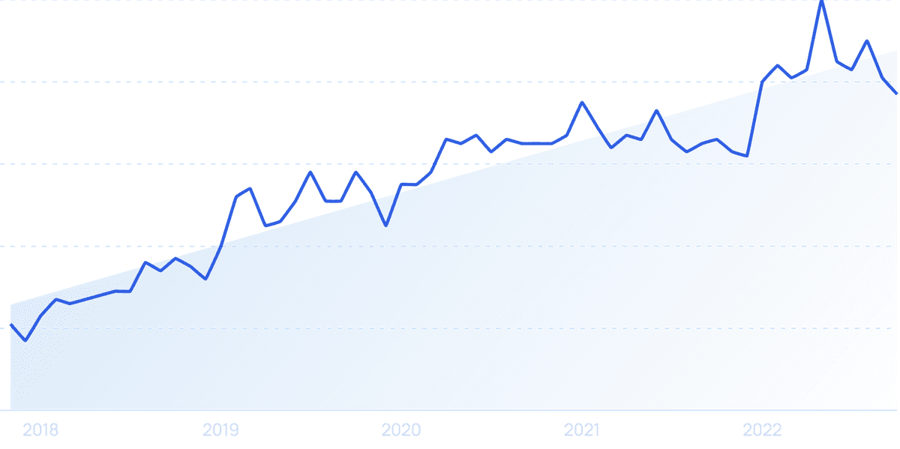 Interest in TikTok ads have increased by nearly 99x+ over the last 5 years, based on the number of web searches (source).
#2: Content Will Still Be King
Grade: +2
Another two points for us—just like last year, we're off to an incredible start with 4/4 points out of the gate!
If you check out our partner Semrush's State of Content Marketing Global Report, you'll see that of the 1500 businesses surveyed, 97% said content marketing was part of their marketing strategy. Not only that, but as we head out of the tail end of the pandemic, 26% of businesses said they would increase their content marketing budget and grow their content team.
Need we say more?
#3: The Concept of the "Metaverse" Will Go Mainstream
Grade: -1
Our first miss is an interesting one. We still believe the concept of the metaverse will go mainstream at some point in the next few years, but it didn't happen in 2022, and honestly, we doubt it'll happen in 2023.
Now, the reasons this one didn't come to fruition were mostly due to the impact of spiking inflation rates and their impact on the stock market and cryptocurrencies, the latter of which is closely tied to the concept of the metaverse.
Again, we believe this will happen eventually, so we still recommend getting ahead of the game by learning as much as you can about the metaverse corner of the digital world to ensure you're fully prepared for its arrival.
#4: Experiences Might Be Part of Marketing Strategies Again
Grade: +1
Just so we are all on the same page here, we define experiential marketing as the process of creating an experience for the customer rather than approaching them through traditional marketing methods.   Essentially its a marketing strategy that engages the consumer and creates real-life experiences that will be remembered.
It's difficult to discern how widespread the return of experiential marketing was in 2022, but Netflix's Stranger Things is a great example.  This hit show has become a key asset in keeping subscribers. The fourth season, which debuted in early July, achieved more than one billion hours of viewership within its first four weeks and has become the network's most popular English language original series of all time.
#5: Live Social Media Content Will Boom
Grade: +1
According to Hootsuite, 30% of internet users polled in 2022 said they watched at least one live video stream per week. And data from Vimeo suggests live videos manage to capture attention between 10 and 20 times longer than pre-recorded on-demand content.
Whether or not the above stats indicate that social media content "boomed" in 2022 is up for debate, but they suggest that the demand for and effectiveness of live social media content grew in 2022, so we're going to put another point on the board!
---
Final Score: +5
Well, our score for last year's set of predictions is down from 2021, when we set a new high score. But five points is more than enough for us to carry on this tradition, so the crystal ball comes for another year!
Here's what we think is in store for the future of marketing in 2023:
#1: Twitter Won't Be the Same—It May Not Even Exist
As of this writing, billionaire Elon Musk has owned Twitter for barely four weeks. And in that time, he's fired over 50% of Twitter's workforce, seen a good chunk of the most important remaining employees quit of their own accord, and experienced a mass exodus of users.
As hard as it is to believe, many industry pundits believe the total collapse of Twitter is imminent. But even if that doesn't happen, we're pretty sure Twitter is never, ever going to be the same behemoth social platform that it was at its peak.
Eventually, though, something will emerge to fill the void left by Twitter.   We've been hearing a lot about Mastodon recently…
Assuming Twitter collapses in late 2023 or early 2024, or even if it remains but is a shell of its former self, we predict that a new or existing platform with Twitter-like features that allows users to engage with each other in similar ways as Twitter, is going to emerge and become the next great social media giant.
Will it be something that doesn't exist today? Will it be Mastodon? We're not entirely sure, but it will be something.
#2: More Mainstream Business Opportunities for Web3 Will Emerge
Web3 is set to revolutionize the way businesses operate in 2023 and will foster greater trust among customers and stakeholders by giving them access to secure, decentralized networks. Web3-powered technologies such as NFTs (non-fungible tokens) and smart contracts will open up new realms of possibility for B2B and B2C companies, ranging from automating transactions between parties to securely storing data on a distributed ledger. With more use cases emerging from companies such as Adidas, Starbucks, Gucci, and Nike, Web3 promises to bring about a resurgence in online commerce that is more efficient, transparent, and reliable than ever before. Businesses that capitalize on Web3 will be well-positioned to benefit from its potential in the years ahead.
It's an exciting time for Web3 technology, and we'll be keeping abreast of how fast things move on this front next year.
#3: Zero-Click Content Will Continue to Gain Steam
As we found out in the grading section of this very post, content was still king in 2022 and will probably still be king in 2023. But a growing problem with content is that most marketers want audiences to consume content on their blog or their channel, which means when they try to amplify the content, they always focus on the CTA and the link click. In a market oversaturated with content, this strategy is failing more often.
Zero-click content means when you go to share your post on social media, you actually give away some of the meat—whatever value you're offering in the content—right up front in your tweet or post, without any expectation of your audience clicking through to the actual piece of content.
Here's a fantastic post on the subject of zero-click content that does a much better job of explaining the concept that we're doing in this small space. If you read it, I think you'll agree we're all going to be focusing on improving our zero-click content game in 2023.
#4: More Companies Will Outsource to Digital Agencies
Although this one is good for us as a company, that's not why we're predicting it. We're not willing this to come true. It's just reality.
In the second half of 2023, many companies—especially those in the tech and digital spaces—were forced to lay off employees in the face of uncertain short-term economic conditions. Not even giants like Meta or Amazon went unscathed. But these are still large companies, and when big companies get leaner, they inevitably need to outsource more work. In the case of 2023, it'll be the marketing that gets outsourced more often than not.
#5: Companies Will Try to Tap Into Their Employees
Influencer marketing is all the rage these days and with good reason. A strong advocate can be a powerful thing for your brand.
In 2022, companies have realized they have whole armies of strong advocates—their employees. It can be a delicate thing, but if a company can properly incentivize its employees to truly spread the word about how great their company's products and customer experiences are, it can pay huge dividends. In addition to proper incentives, a clear and simple employee advocacy playbook is key to success, especially if brands want it to be impactful in the digital space.
---
That's a wrap—our digital marketing predictions for 2023 are complete. Good luck to us! As always: we wish you an amazing start to the New Year!