As we look forward to 2018, it's time for another round of our bold predictions for the marketing world. Here are WSI's 10 marketing predictions for 2018:
#1: More Businesses Will Embrace Marketing Automation
With companies like Sharpspring constantly evolving better and more affordable marketing automation tools, it's clear automation is more accessible than it's ever been. We believe it is definitely something that will grow in 2018.  There is no such thing as "mainstream" in today's marketing landscape and more & more businesses will embrace customer segmented emails and a smart sales management system built around their website  – especially now that marketing automation technology has become more affordable.
#2: The Artificial Intelligence (AI) Powered Future of Marketing Will Take Shape
The emergence of artificial intelligence as the future of marketing may already be happening, but the vast majority of businesses haven't noticed.  Large advertising exchanges like Google and Facebook are already using powerful machine learning technology to leverage data signals to help advertisers reach the right potential customers.  In 2018, AI becomes the future in ways no savvy business owner or marketer can ignore.
#3: The Use of Video Will Keep Climbing
According to Cisco, Internet video traffic accounted for 69% of all global consumer Internet traffic in 2017. By 2021, video is expected to surpass 80% of all Internet traffic. Needless to say, if video is not part of your marketing strategy, you're in danger of getting left behind.
#4: Smart Digital Assistants and Chatbots Become Mainstream
Bing has already experimented with adding chatbots to search results to increase searcher engagement, so again this is already happening on a small scale. What we're predicting is more accessible chatbots, applied in many more instances and at a higher rate. It won't quite be the world of Spike Jonze's Her in 2018, but we're getting there.
#5: Jobs for Data Scientists and/or Analytics Gurus Will Continue to Grow
The chart you see below comes from Indeed's job trends tool. Check it out and we think you'll agree: jobs for data scientists continued to rise in 2017 and show absolutely no signs of slowing down. If you consider that infoworld.com recently stated there to be a shortage of talent in this area, it's no wonder that this demand will continue into 2018.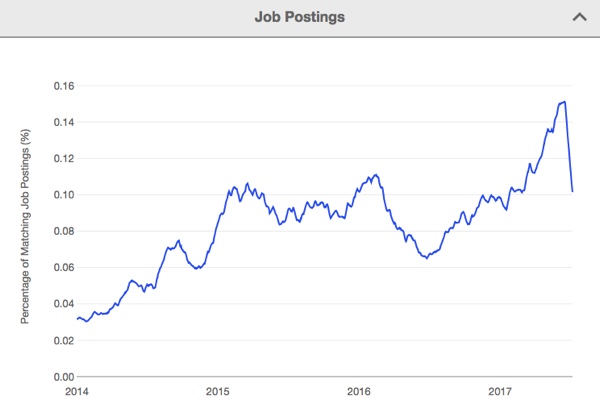 #6: Privacy Policy & GDPR Compliance To Become Paramount
With 2017 seeing an increase in some very significant security breaches around the world, this has made a major impact on the attitude of organisations when it comes to privacy policy and cyber security. From the high-profile breach of the DNC to the WannaCry incident which affected the NHS earlier in the year, it is clear that more and more consumers will become conscious of who manages their data.
There are also big changes coming in the form of the GDPR. The new security body should have a major impact on how businesses protect their data. We have recently published an infographic on 'securing your site' which outlines factors relating to privacy and ensuring your customer data is kept safe in 2018.
#7: Voice Optimized Content Will Be More Widely Developed
Last year 20 percent of online searches were conducted through voice search. By 2020, that number is expected to increase to 50 percent. The earlier trends of marketers optimizing for mobile will shift towards more and more website developers accommodating the demand for voice-driven websites.
A considerable aspect of this, for example, is how a consumer would search online using voice rather than typing. You would expect because it is easier to say what you are looking for, it would yield more long-tail and phrase searches as a result and AdWords administrators may have to adjust their keywords/phrases accordingly.
#8: Marketers Start Creating Augmented Reality (AR) Content
When Pokémon GO took the world by storm, marketers watched in awe, wondering if they could possibly duplicate that level of engagement and interaction. In 2018, marketers begin to familiarize themselves with augmented reality and by the end of the year, possibly work it into their marketing strategies.
#9: Influencer Marketing Maintains Its Foothold
In 2017, marketers realized the importance of developing relationships with both customers and influencers. Now that those relationships are off the ground, 2018 is about nurturing them into a larger and more productive network. There are no limits to the reach and power of influencer marketing.
#10: More Brands Invest in Perfecting Their Customer Experience
Although we believe it's extremely important for companies to align their customer experience with the marketing messages they send out, it doesn't always happen. In 2018, the customer experience becomes more of a focus for marketers, rather than an afterthought.
Until Next Year!
We didn't need luck with last year's predictions, but the future is a fickle thing, so we may need it this year! Are you brave enough to take any of our predictions and work them into your 2018 marketing strategies? We hope you are, but if not, don't forget to visit our blog again next year to see how we did.