New year, new leads!
Whether you're a B2C or B2B business, one of the biggest keys to success and likely the lifeblood of your organisation, is the generation of new sales leads.
The challenge is that the way people buy has changed, so many traditional methods of generating leads, like cold calling, are no longer effective.
According to the Harvard business review, 90% of decision makers say they never respond to cold outreach.
The reality is that the buyer has access to so much information now that they can start their due diligence in the buying process WAY before they ever make contact with a sales person.
Over the past decade, there has been an abundance of emerging marketing software and tools to help businesses with lead generation.
In theory this should make the process of generating leads easier but in practice there are now so many options, it is often difficult for Marketing and Sales professionals to know where to start.
At WSI, we've helped thousands of business executives and marketers generate millions of new leads.  With this in mind we have pulled together the top 5 lead generation ideas (that work) to try for your next marketing campaign:
1. Gated Content
Forrester recently asked hundreds of executive buyers and decision-makers this question: "How do you make buying decisions?"  65% of buyers admit they make decisions based on who creates the buying vision.  35% said everybody has an equal shot–the sale is up for grabs.
The lesson here is that you often need to create the demand FIRST before you start trying to sell a solution.  You often need to make your target audience realise that the status quo is unsafe.  In other words if they continue to do the same things their business will not survive.  Companies like Kodak and Xtra vision come to mind!
In this context, organisations that help create the buying vision and ultimately create value, are rewarded with a differentiated conversation whereas companies that wait until the demand has been generated end up having a price sensitive commodity conversation.
So how do you create this value?
The answer is through creating really valuable content.  The goal is to use this premium content to create digital resources like videos, e-books, whitepapers, webinars, etc.  This valuable content is "gated" behind a form.  You dangle this content like a carrot in front of your prospect and incorporate it into your lead generation and inbound marketing strategy. This is a quick and easy way to exchange your content for a sales lead. Typically, visitors on your website will fill out a form to gain free access to your content. In return, you retain their contact information and it becomes a sales lead for future conversion.
A good example is our very own Lead Generation e-book.  We help companies develop Lead generation strategies for their business so this is a topic we know a lot about.  So we used this knowledge to develop premium content that we feel is of real value to companies.  The result was a 41 page e-book titled "The 30 greatest lead generation, tips tricks and ideas".
To see how the process works, go ahead and click on the banner below.
In addition to understanding how the gated content process works, hopefully you'll pick up a bunch of hot tips from the ebook.
Gated content definitely puts up a barrier between your content and the potential prospect and sometimes it can add a little friction to your marketing.  With this in mind it only makes sense to gate premium content.  In this case, the quality of your leads will be better because those requesting access to your content show that they're genuinely interested in what your business is about or what you have to offer. As a result, users are willing to become a sales lead in exchange for the information or insight you have gated.
2. Landing Pages
Creating and optimizing a landing page for your next marketing campaign is a great way for you to generate valuable leads for your business. Understanding the importance of landing pages and everything that goes into making a good landing page will help your business drive better traffic to your website and generate higher lead conversion.
An effective landing page typically includes an attention-grabbing headline, simple and clear copy of what is being offered, keywords that are optimized for search, hidden navigation, some sort of CTA (call-to-action), and a lead-capture or conversion form. Bonus points for visual appeal!
Take Lyft for example. Its "Become A Driver" page is an excellent example of an effective landing page for lead generation. You will notice that this landing page has hidden navigation, that minimizes distractions as readers scroll down the page. This increases the chances of visitors staying on the page for a longer period of time, ultimately increasing the chances of converting as a lead.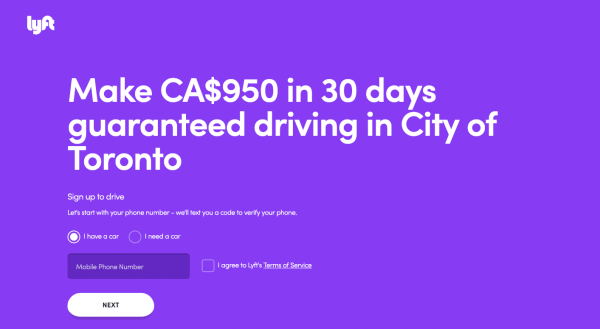 Right away, the headline, "Make CA$950 in 30 days guaranteed driving in City of Toronto" captures the readers' attention. The headline is making a promise that incentivises visitors to sign up to become a Lyft driver.

Lyft also uses visible CTA's as you scroll down the landing page, encouraging its visitors to sign up after providing a "what's in it for you" type of message.

The clear and concise copy used is also an effective way of telling visitors what Lyft has to offer. When you're considering incorporating landing pages to your lead generation strategy, less is more.
Ask the question: What will capture the reader's attention to make them want to know more?
Keep it brief, succinct, and straight to the point.
Traditionally, landing pages use forms to gate content – similar to our lead generation e-book above.  However with the emergence of artificial intelligence (AI) technologies like chatbots, this is starting to change.  We have started to use chatbots to replace forms on a number of our landing pages and have seen some great results.  This is still a very new concept but I think it offers an improved customer experience.
3. Pay-Per-Click (PPC) Advertising
Google Ads (formally known as adwords) and Google's Pay-Per-Click (PPC) Advertising have been around for quite some time now, and it's more important now than ever before. If you're not already using PPC advertising in your lead generation and marketing strategy, your next campaign in 2019 may be a good time to start! PPC advertising is an extremely cost-effective way to generate traffic to a landing page or a lead generation form.
In this scenario, businesses will set up custom ads to be displayed when online users enter specific search queries. The wonderful thing about PPC advertising is that you don't pay until someone clicks on your ad. An effective ad typically has a great headline that attracts readers' attention, a clear and brief description of your product or service, and further incentives for your readers to click.

As you can see in Spotify's Google ad above, the headline "Unlimited Music on Any Device" sparks the reader's attention. The description is clear and concise, outlining some of the many benefits Spotify Premium has to offer. There are also effective CTA's below the description that encourage readers to click for more information.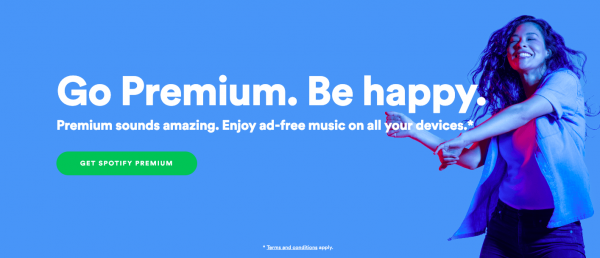 Just like Lyft's landing page we examined earlier, this Spotify ad redirects users to Spotify Premium's landing page. Similar to Lyft's landing page, it embodies similar characteristics: an attention-grabbing headline, simple and clear copy of what is being offered, keywords that are optimized for search, hidden navigation, and a CTA.
At the end of the day, it is important to keep in mind and understand all the reasons why PPC is still vital to your to your online lead generation strategy. Equip yourself and your team with the right resources and see how your business can leverage paid ads for your next marketing campaign.
4. Email Marketing
Many businesses have already incorporated email marketing into their lead generation strategy, but there is always room to improve and find new ways to increase the number of inbound leads that come in from your email communication. Do your e-newsletters go out bi-weekly? Monthly? Consistent email communication helps build credibility and trust with your leads. Take it to the next level this year and add a touch of personalization to your email marketing strategy!
You can see in the above example from our recent Instagram Stories newsletter, we use merge fields in order to personalize the content sent to our saved contacts, citing their name, company and in some cases their job role. You can program the email to default back to common phrases if you do not have the information in your CRM. So "Hello Enda" would become "Hello There" or "asset for WSI Digital Marketing" would become "asset for your business".
Adding that personalization creates a mutually beneficial relationship between you as the business and your audience as the potential customer.
If you want to take it to the next level, a popular tool to integrate into your lead generation strategy is marketing automation (e.g. Hubspot, SharpSpring, Marketo, Pardot, etc.). Larger enterprise companies typically use marketing automation to build a steady flow of leads for their business through the method of "dripping" information. At the end of the day, businesses of all sizes can customize their email marketing strategy however they see fit to best achieve their lead generation goals.
5. Remarketing
Have you ever left a website and all of a sudden, its ads are following you for weeks on end wherever you go online? An example is when you visit an e-commerce store, add your items to your online shopping cart, and never carry through with making the purchase. A few days later, you suddenly see ads for that same e-commerce store popping up on every other website you visit. That's all thanks to remarketing! When someone visits your website and doesn't convert as a lead, you can easily lure them back in with a little remarketing know-how.

According to Google, remarketing "allows you to strategically position your ads in front of audiences as they browse Google or its partner websites". This helps increase brand awareness and keeps your brand top-of-mind when your previous visitors are browsing other sites. As a result, remarketing is a quick and effective way to remind those audiences to come back to your website and make a purchase.
---
Approach this year with an open mind and never stop exploring new ways to improve your lead generation strategy. Implement and test out a few ideas we've discussed above and see how you can incorporate them into your next marketing campaign!