"The Internet is becoming the town square for the global village of tomorrow" – Bill Gates
It's hard to believe that the Microsoft Co-founder made this prediction back in 1999! His analysis has never rung truer. Even a cursory look at the business landscape today makes it obvious that having a strong, visible web presence is absolutely vital to ensuring a steady flow of sales leads to any business.
On the Internet, as in the world of business, vying for clicks is as competitive as any marketplace, and your website may need that winning edge in order to overcome the aggressive fight for online supremacy. One of the most common and simplified methods of achieving this is to increase the overall traffic to your website. So, here are 4 easy ways to quickly boost your website traffic.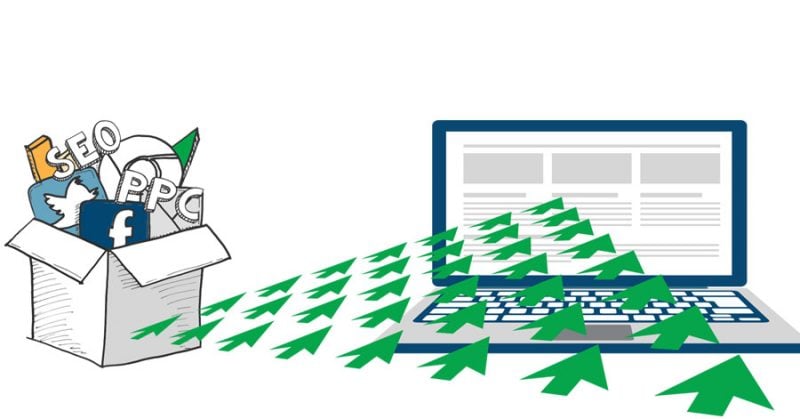 1. Use Search Engine Research To Drive Traffic
Discover your customer's voice!
Tools such as Google AdWords or SEMrush can help prepare the copy for your ad campaigns, but also give invaluable and actionable insights into your customer base, and their buying/searching behaviour. This will help you design the layout and language of the site while keeping your customer expectations in mind.
For example, you may find that most web searches to your web page are based on problem-solving or emergency inquiries like "how can I protect my software IP?" or "next day flower delivery". Using these insights to create content that focuses on solving these customer problems could be a good start.
Finding the right words or phrases that are relevant to your product or service can also help you deliver workable findings in the design and layout of your web page. Since most people use search engines to answer their questions, why not base your content on problem-solving behaviour?
2. Content Strategy/Blogging
Optimize your site with keywords!
Now that you have a firm understanding of your customer's voice, you can use your newly found keywords to guide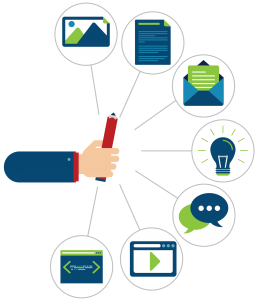 your content. You have a better chance of being found by your target audience if you pepper your webpage s with words and phrases that they are most are likely to use while doing their online searches. Of course, it's equally important that your content is not crammed with every keyword that is relevant to you! (Google is watching and may flag you for bad content).
It is important to understand that onsite SEO is your site's way of communicating your business offerings to a search engine. When the concept of SEO began, it was all about trying to 'fool the algorithm' without ''poking the bear'. Now a sound content strategy will help you stay competitive within your market. Google spiders love change, so don't delay. The more frequently you add content, the higher you will appear on the search results pages!
For Example, a Dublin-based car dealer who wants to be found online by people using search phrases like "cheap cars" or "spacious Ford Cars" have to include these keywords on their website. It is equally important that the same message and content quality is maintained in landing pages relevant to those searches. The same applies to your blogposts, news stories, and other content.
PRO TIP! Use page titles or meta descriptions to describe your offer. Google will prioritize these fields first as opposed to the main body of text on the page
3. Social Media Marketing
Add another string to your inbound marketing bow.
Company Directors always get very excited at the prospect of 'free advertising,' but it's very important to remember that social media marketing is more of an ingredient than an entrée. Depending on the size of your business, you might want to allocate a considerable amount of time to social media marketing. However, you have to keep in mind that despite the relatively free cost of posting, you may need to invest an extensive amount of time and resources to see real results.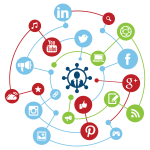 Having an arsenal of strong social channels such as Facebook, Twitter and others are ideal for supporting your website and can provide an extension for not only your business communications but the products/services being offered as well.
Another great way to promote healthy SEO is by placing links on your social media platforms connecting to your webpages (e.g. blogposts). Google will view them as 'social signals' of proven web content – social signals being your webpage's collective shares, likes and overall social media visibility as perceived by search engines. This, in turn, has a positive impact on SEO.
PRO TIP! A small or medium business shouldn't allocate all social media tasks to just a single person. Thought leaders exist in all layers of the organization. Best results will come from the Director contributing their own voice (as the best vocal point of the business) with support from Staff for other creative material like images, taglines etc.
4. Paid Advertising
Targeted spending, the smart way!
By now your web page is fully loaded with enough content and relevant keywords to set your traffic numbers soaring, but of course, you can't expect to become an Internet champion that easily. In order to really break into the digital space, sometimes you have to spend money to make money.
Before you jump into online advertising, it is vitally important to gauge your audience, know the territory and set limits and expectations for your online advertising campaign.
An effective option for this is display/banner ads to immediately engage your audience with a rich media message on a web page relevant to their own interests. This tactic is be best suited for a more spontaneous sales opportunity and generally works best for people who are not actively searching for your product or solution.
Knowing which platforms best suit your company is also paramount. Are you a restaurateur who favors Google Search ads to quickly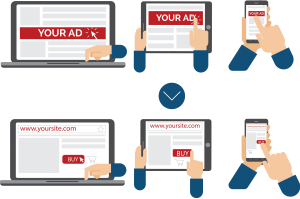 inform your customers of your location or phone number? Or, maybe you're a manufacturer that has a long sales cycle where serving up an extensive amount of information is better suited to sell your product. Whatever the offering, you need to match the ad platform to your customer buying behaviour. For example, promoting a business software product on LinkedIn, a platform that is driven by and for businesses, makes more sense than promoting it on Instagram.
So there you have it, with a strong focus on integrating these digital strategies in your daily marketing practices, you will be well on your way to gaining traffic, building real brand awareness, and maximizing your rate of return for your business. Always remember to be aware of your customers' needs and behaviours and this will help you stay ahead of the curve.